Happy Halloween Everybody! In honor of this creepy and spooky holiday, we thought we'd emphasize the Top 10 cooperative games that are creepy and/or spooky. Now, some cooperative games are very thematic and spooky, but but necessarily creepy! And being a creepy game doesn't necessarily mean a game is thematic! So, our metric for rating the games is an amalgam of "thematic", "creepy", "spooky" scores, as well as how much I like it. For instance, the game I like to play the most is not the number 1 game on the list because it's not quite as creepy as other games on here! The number 1 games was the one I enjoyed the most and probably the creepiest!
Honorable Mention
Escape The Room: The Cursed Dollhouse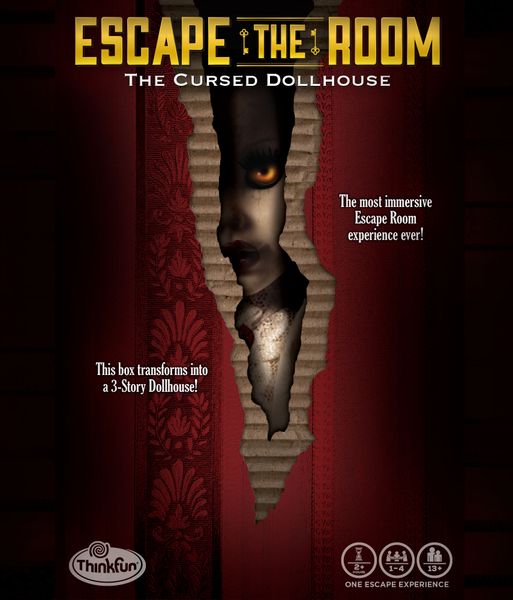 We haven't gotten through this yet, but it looks so cool!  The game transforms into a 3D dollhouse and looks really cool!  Early reviews are that it's hard and doesn't accommodate more than 2 players very well, but it just looks so cool.  We'll probably be reviewing this on the site soon!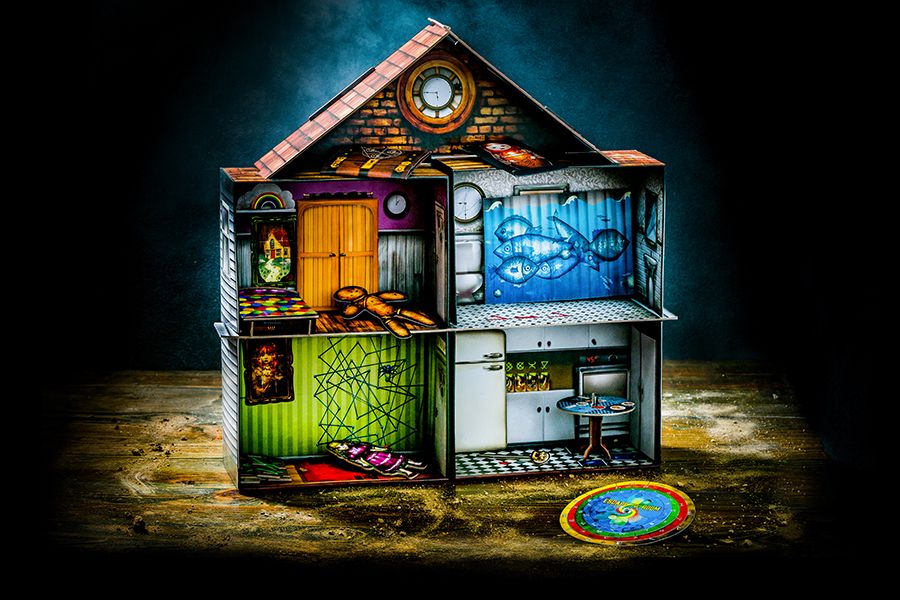 10. Horrified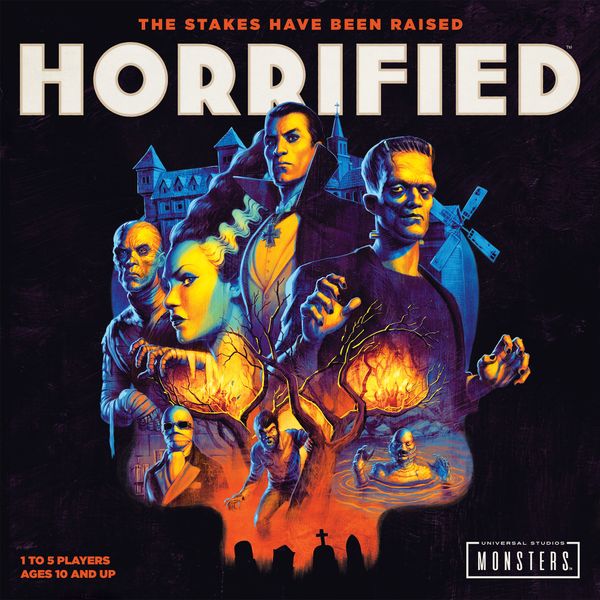 A lot of people really like this cooperative, mass-market game (I got my copy at Target). The players work together to defeat the Universal movies "old-style" monsters (The Mummy, Dracula, see the cover above!) as you go on in game quests (with a little pick-up-and-deliver). It's not particularly creepy or spooky but it is very thematic, and works well with families and younger players.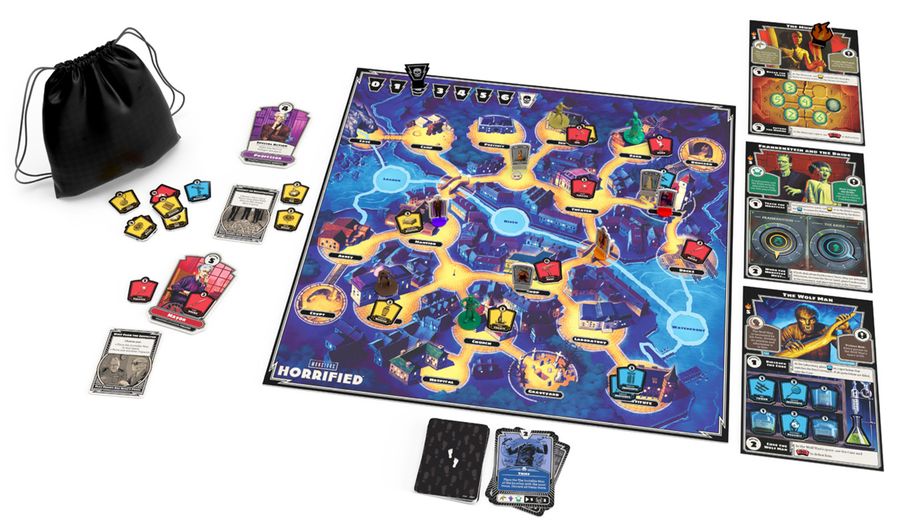 9. Ghost Stories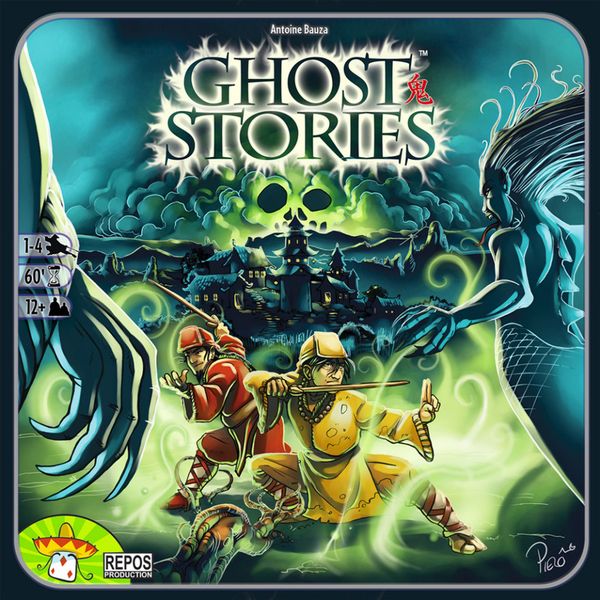 This is a very hard cooperative "puzzle" game for 1-4 players.   Players cooperatively are defending a small village from being decimated by ghosts (with a big bad that comes out at the end).  The art of the ghosts is quite creepy and really evokes a scary ethic.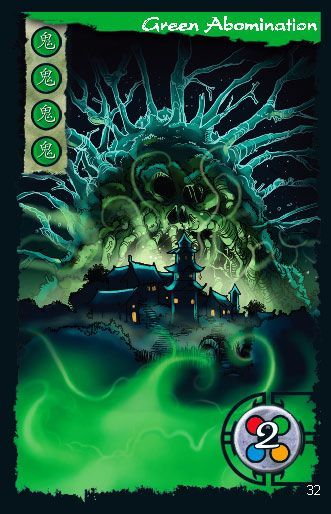 This is a really hard cooperative game, and maybe very hard to find (I think it's out of print). It has been been replaced by The Last Bastion (a retheming of the game to fantasy setting). If you can find the original, pick that up instead.
8. Ghost Fightin' Treasure Hunters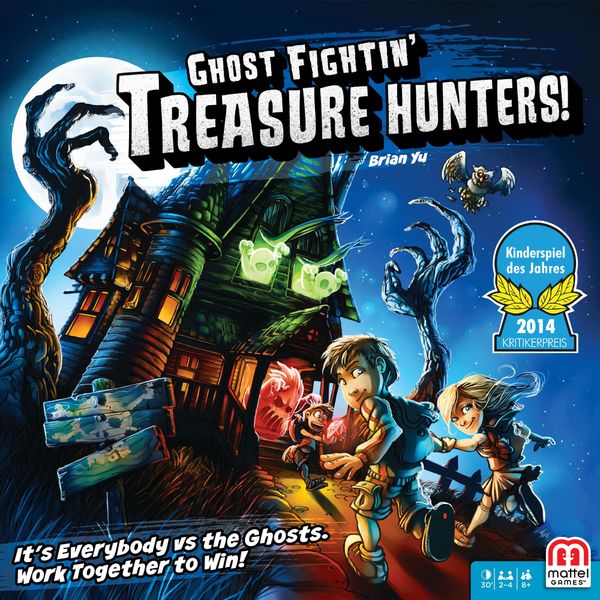 This is a light cooperative game set in a haunted house: it's mostly aimed at a younger audience, so it's not too scary.   It's like a lighter "pandemic" style cooperative game as players race around the board defeating ghosts and picking up loot.  The components are pretty fantastic (the plastic ghosts are fun to play with by themselves) and the game is very thematic and fun ! It has just a hint of creepiness/spookiness…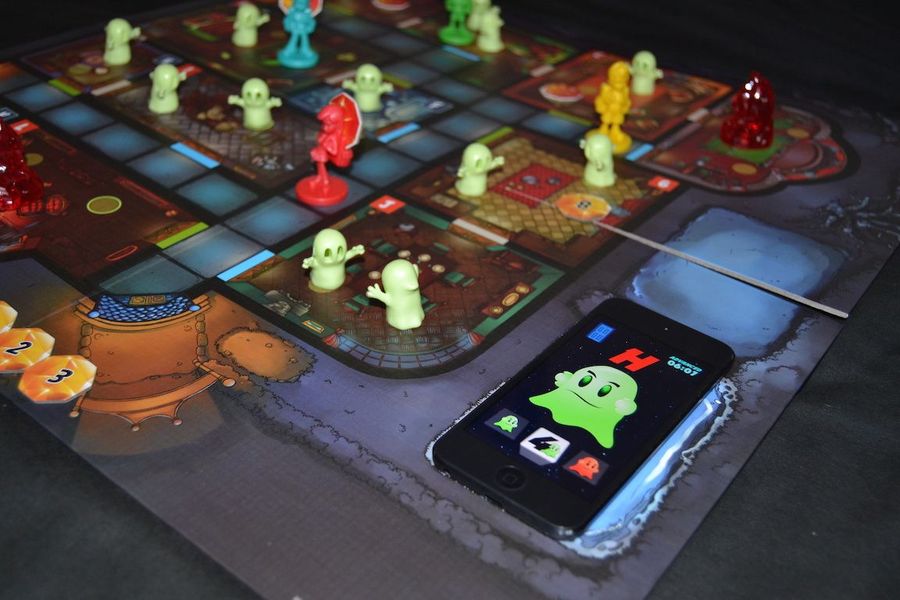 7. Mysterium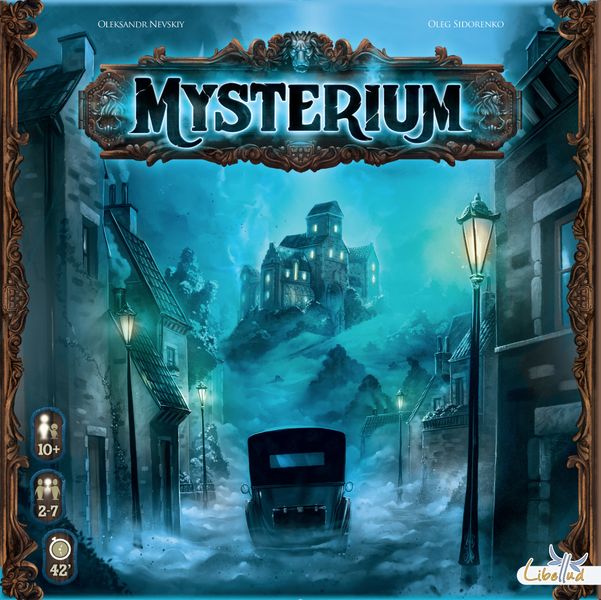 Mysterium is a an odd fully cooperative game where one player plays a ghost, trying to get all the other players to discover how he was killed!  The ghost can only communicate in dreams (little scenes that he give to each player).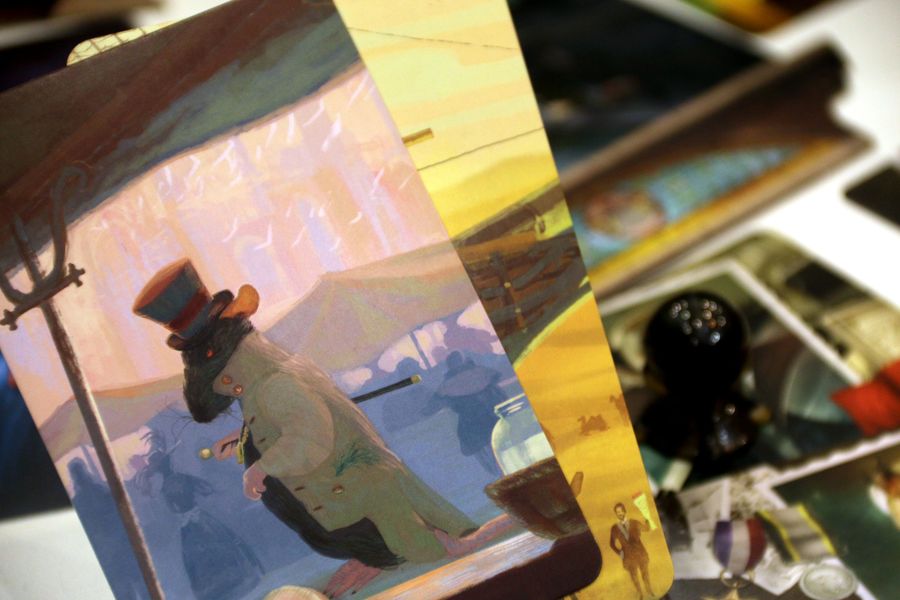 The backdrop for the game is a creepy haunted mansion, and the dream cards (see above) are always creepy and weird.   The game can be a tad frustrating if the players don't "get" the ghost is trying to say, but the game is definitely evocative, thematic and very creepy!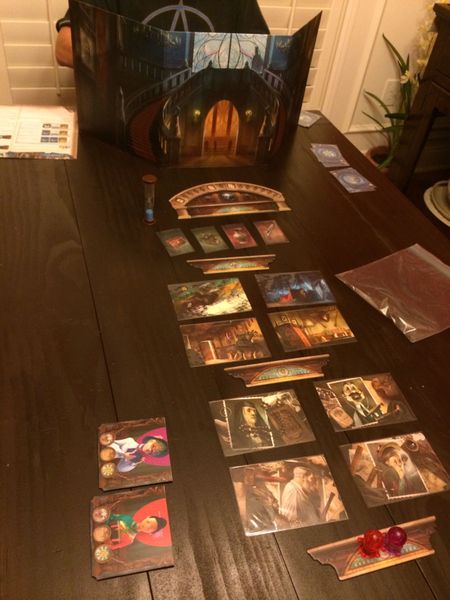 6. Scooby Doo: Escape From The Haunted Mansion
This is a one-shot escape room game, where the players cooperatively control the Scooby Gang, trying to solve a mystery!  This one makes it very high on the list because it was so much fun to play!   It's definitely an escape room game that families can play (unlike others we might see later), as it's fairly light, but it still has an interesting mystery to solve.  If you loved the Scooby Doo cartoon show, and the "creepy" vibe of that, you'll love Scooby Doo: Escape from the Haunted Mansion.  (Again, this one makes it so high because the gameplay was so fun, even if isn't as creepy as other games on the list).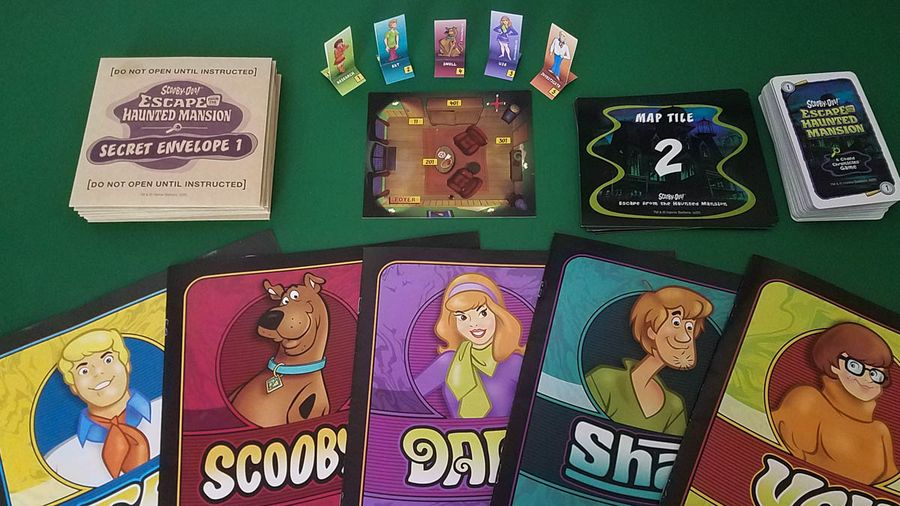 5. Mythos Tales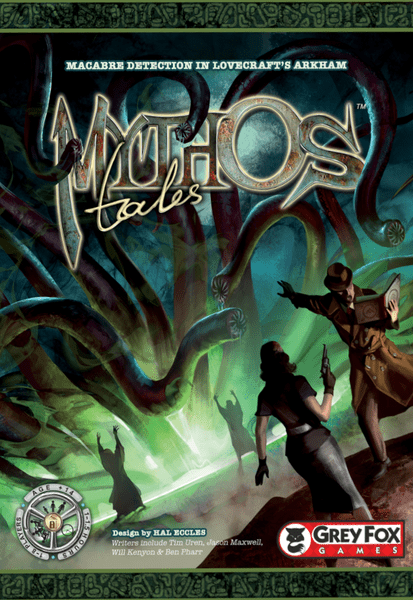 This game creates a incredibly rich, creepy story in an Cthulu-esque universe.   There are 8 episodes in the box, and once you've played through an episode, you are done (in more ways than one as the horrors and madness overtakes you!)  This game is all text-based, and you explore the city of Salem trying to discover the dark mysteries underneath.  If you have played Sherlock Holmes: Consulting Detective, this is the same kind of game, set in a horror universe.  Very creepy and very evocative.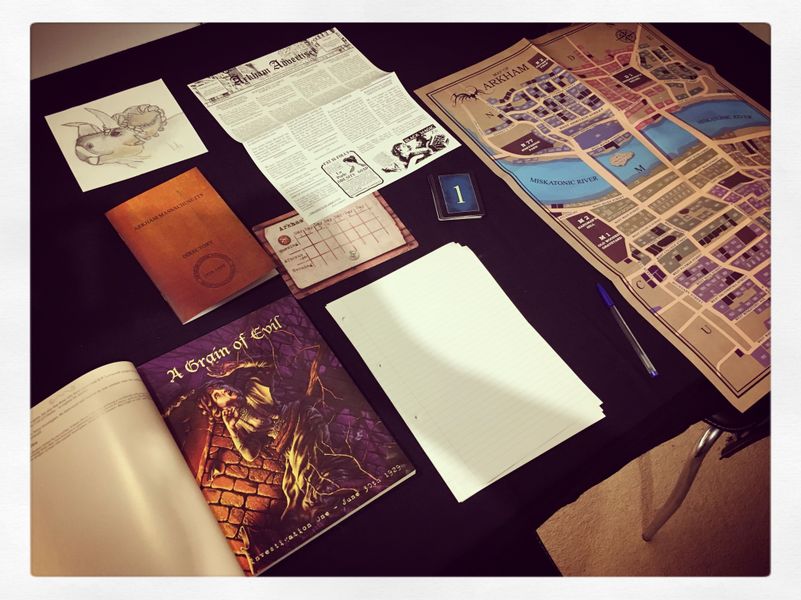 4. Arkham Horror (Second Edition)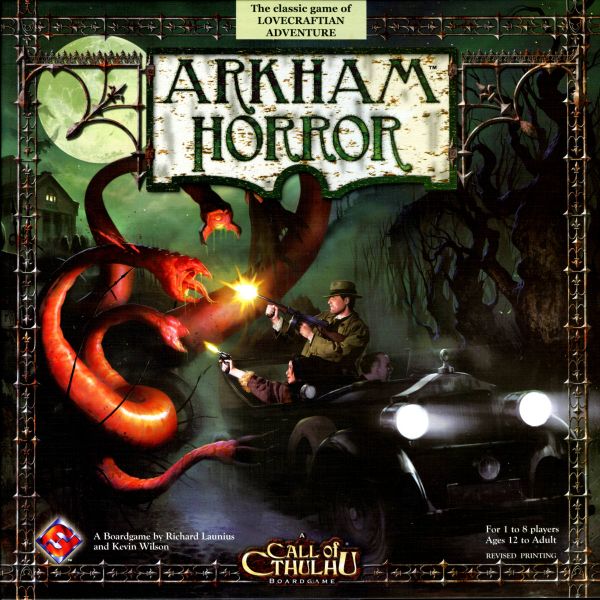 This is my favorite game to play, but it's not the creepiest or most thematic of games.  The game is a deep, heavy, cooperative romp around the city of Arkham, as players work together to fight monsters and shut gates to stop the impending arrival of a Cthulu-esque old one.   I think my gaming group liked this so much because it was very akin to a role-playing game (with attributes, spells, items) without all the messy overhead of an RPG.  So, it's a bit heavy for most people, but the thematic art and text permeates the game and creates a nice, creepy experience.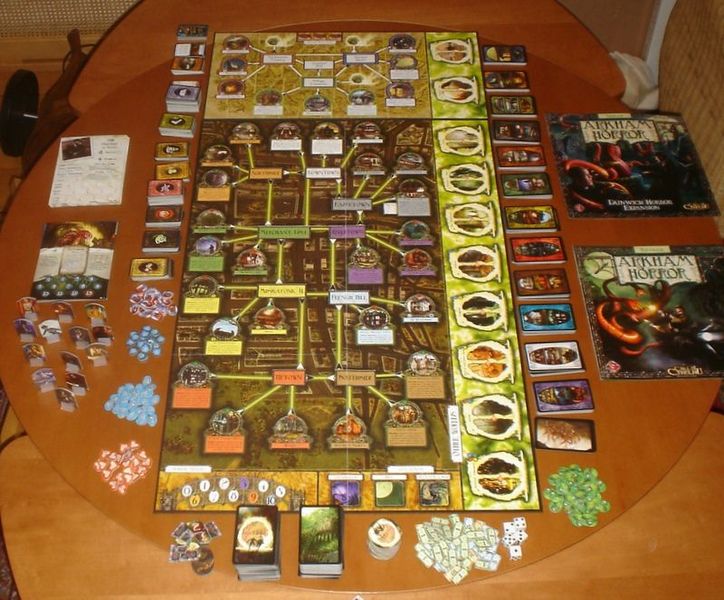 3. Mansion of Madness (Second Edition)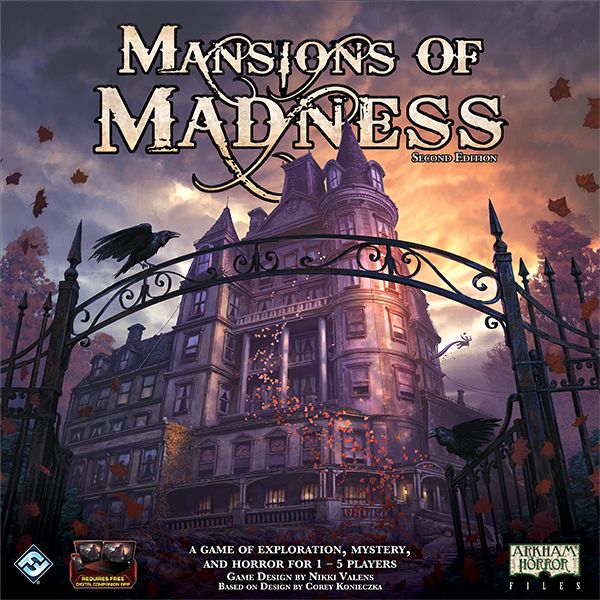 To be clear, I hate the First Edition of the game (where one player plays against all the other players): you want the Second Edition which is fully cooperative.  The Second Edition uses an app to "run" the game and it turns the Mansions of Madness against you!  This is a big sprawling game set in a Cthulu-esque universe.  It's interesting because you don't actually know what your objective is at the start of the game, you sort of have to discover what you and your teammates have to do as you.  It's incredibly thematic, very creepy, and very long…. it may take you a half hour to set-up, 2 hours to play, and another half hour to tear-down, but it creates a very satisfying creepy experience.

2. Exit: The Haunted Rollercoaster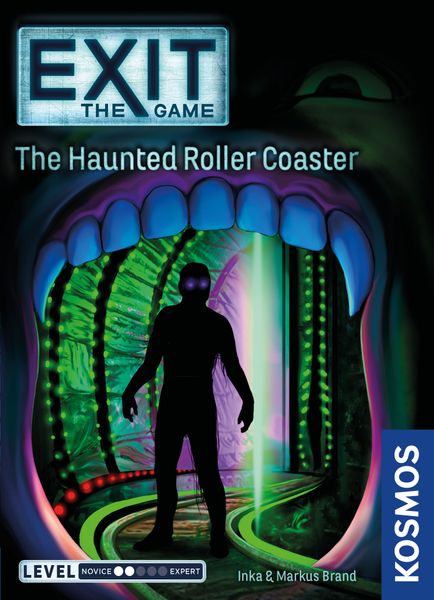 This one surprised me a little: it was one of the funnest escape rooms I've ever played! It was creepy, and it had (without any spoilers) one of the scariest moments I've ever seen in a game. It's a lighter cooperative escape room (rated Novice), but all of my group liked it! It is an EXIT game, so it can only be played once (as you tear up cards, and rip things), but it really is worthwhile as a creepy, cooperative game. (I don't want to show too much more of the game! I don't want to reveal any surprises!
1. Exit: The Catacombs of Horror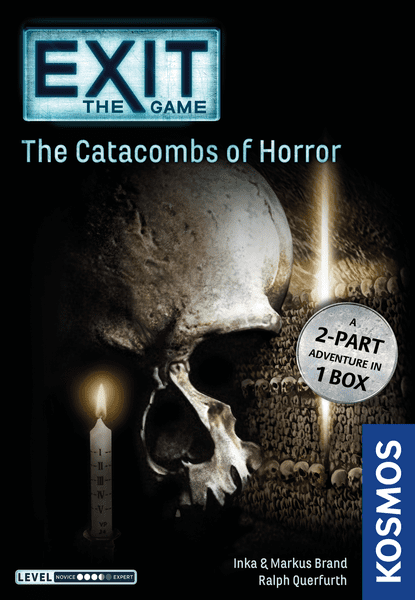 This one surprised me. I really thought Exit: The Haunted Rollercoaster would make the number 1 position! Even though me and my group enjoyed playing the Haunted Rollercoaster more than The Catacombs of Horror, the overall experience of The Catacombs of Horror was just more creepy and thematic and cool! The Catacombs of Horror (expert level) was a lot harder than the Haunted Rollercoaster, and we got frustrated a number of times. Luckily, the hint system of the Exit games is quite good and we were able to continue in this creepy world.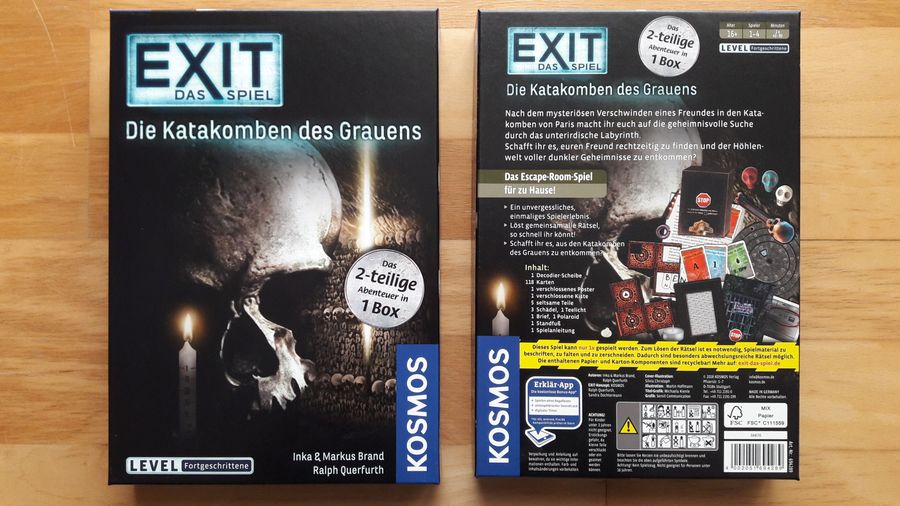 If you look closely at the warnings on the back of the box, it talks being careful with a candle. That's right, there's a candle in the box and you can have some downright creepy and thematic playing! Again, this one takes the number 1 spot because it was the creepiest game we've played!