Gascony's Legacy was on Kickstarter back in April 2017. (Wait, is that right? Check around update 8 here: yup). I missed this Kickstarter somehow, but I was able to pick it up from Miniatures Market fairly recently (April 2021). I am pretty sure this JUST came out, because I was waiting for this particular game from my Miniatures Market order. I don't have any idea if the backers are grumpy (4 years between Kickstarter and delivery?), and I don't want to know. I just wanted to try this cooperative game!
Gascony's Legacy is a cooperative game for 1-4 players set in the world of Alexandre Dumas' Three Musketeers! For the record, the title is a bit of a misnomer: this is not a legacy game (in the sense that you tear up cards and put stickers on the board), but it does have an ongoing campaign with minimal saving of state between games. I have to admit, I am a sucker for the swash-buckling theme of the The Three Muskeeters! I was even thinking of doing a Top 10 Cooperative Three Musketeers Board and Card Games! Here's the problem, I know of only two that I really like, so this would be a very boring and short Top 10!
Gascony's Legacy: by Lynnavander Studios (2021). See more discussion below.

Mousquetaires Du Rey: An old Ystari game (2010).  
We have actually mentioned Mousquetaires Du Rey a few times here in the Coop Gestalt blog: Recently, in the Top 10 Games That Can Be Played Fully Cooperatively and a while ago in  More Cooperative Games Off The Beaten Path.  We really like Mousquetaires Du Rey ! The only question is, do we like it more or less than Gascony's Legacy?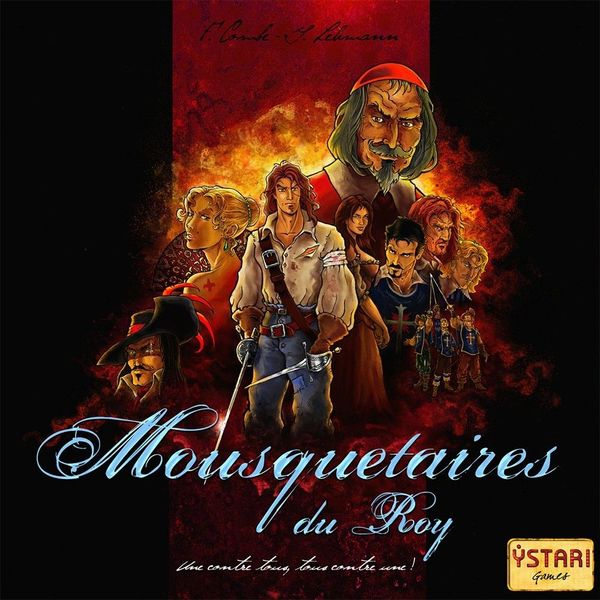 Unboxing
The game starts with the rulebook (see above). It's a fairly lengthy rulebook of about 28 pages. Under the rulebook, you find a ton of cardboard: see below.
There's a bunch of cardboard for the tokens, rooms, and character cards. Even some barrels and braziers? What kind of wacky game is this? It looks like we will be setting up rooms and encounters with the punchouts …
This is definitely a dice game of some sort: there's a lots of decent six-dice dice with some specialized (!) dice as well (see below)! Most of the challenges in the game will involve rolling dice, but luckily there are tons of ways to mitigate this.
There's some really nice little metal coins in here. These represent the gold in the game!! They are super nice, but there's only 6 of them and they pretty small. Still, they are nice …
There is a quite a bit of game in the cards (see above): all the stories and campaigns are on cards, all the weapons/equipment is one cards, the bad news deck, the bad guys: most of the content of the game is here in the cards.
The cards are, unfortunately, not linen-finished. But they are pretty good and easy to read (see above).
Overall, the components are good but not great. I like the way the game looks, although I have to admit I don't love the cover: I think the cover needs a chaotic, swashbuckling 3D scene to really show off it's Three Musketeer's theme!
Rulebook
This rulebook starts off similar to most rulebooks, then takes a different tact when approaching the game. It starts with an overview (pretty standard):
I'll be honest, that Table of Contents gives me some confidence that this will be a good rulebook. The next page is the standard list of components (it works fine):
Then the rulebook deviates a little. Instead of jumping into a set-up, it goes over all the components in the game.
You know what? I think this works. It helps me get a sense of what all the components are: this is helping immerse me in the game.
And finally we do get to a set-up!
I think this rulebook worked really getting me into the game and familiar with the components. The font was readable, the choice of layout and a few fonts was still suggestive of theme but not so much that it robbed me of readability.
Overall, this was one of the best rulebooks I've read in a while. The rules were presented logically, the text was terse but not unclear. There could have been a few more pictures, and the rulebook was a little long, but overall I was very happy with rulebook. I learned the game and had no problem looking up rules when I needed to. The rulebook did not get in the way of me learning the game.
One of the things that gave me the most confidence in this rulebook was that the glossary/index seemed very complete:
Solo Rules
The Solo Play is very clearly defined: see above.   It even leaves the door open to play multiple characters for some variety!  I dream and wish rulebooks will do this!!  Recall, I was a little perplexed that Burgle Bros 2 had NO MENTION of Solo rules even though the game clearly states 1-4 players on the box … so I was glad to see Gascony's Legacy very clearly puts forth the solo rules. 
Having said that, there was something mystifying during set-up: if you NEVER play fewer than 2 characters, why does the set-up seem to allow for 1 character?   (See set-up card below).  If you are playing two characters for the solo game, it seems (for balancing reasons) that you should play with just as many bad guys as 2 players!  So, I played the solo game as a 2-player game.  This oversight seemed like a rare misstep in the rules.  
Set-Up
This is a Three Musketeer's game, so of course you have to control of some of the characters from the book! I decided to play my solo game with 2 characters: Athos and Porthos (see above). Each character has a talent (upper part of part) that can be activated by the "wreath" face of the die, and they also have a support (lower part of the card) that can be activated by the "crown" face. The starting equipment is listed under the name.
As you get set-up, you get your standee (with stance token: we'll get to that) and life, equipment, and "destiny" tokens. Notice the player reference cards off to the right: very helpful!
Let's talk about the equipment: Gacony's Legacy has a real interesting idea: when you equip an item, you either (a) equip it on the left (b) or the right. How you equip your sword has a real impact on what spaces you can attack on your turn! The light blue squares (see above) indicate where the Royal Epee can attack, depending on how you equip the sword!! Later in the game, you can get two weapons so you can attack on the left AND right! This is really thematic! And you can only change how your grip by using your action during your turn (which is different from you fight)!
The game set-up is controlled by the story cards: the first one is above. You can play through a full campaign, lasting 40? 50? cards if you like!
The story cards show you what terrain tiles come out. Yes, there are barrels. Yes, they can be rolled over your opponents (but we are getting ahead of ourselves).
The story card will show where to put your enemies: at the start of the game, you are just fighting some of the "base" enemies (see above). Later, as you progress into the campaign, you will see the named villains .. they have their own decks!! (See below)
.. but we don't get the big bad guys until later.
Following the direction on the story cards, you set-up the game! You put barrels, enemies, your standees, and the terrain tiles out to form your battlefield! En garde!
The set-up on the story cards works ok, but it would have been nice if the terrain cards were labelled and the story cards indicated which terrain tiles we needed. It's not a big deal, since the game doesn't have a large number of components, but it's a little thing that could have made the set-up go just a little faster.
Overall, set-up was fine.
Gameplay
The game is all about the swashbuckling sword play!  The way you face and the way you equip your sword (left or right-handed) matters!
In the first game, we see Athos is equipping his rapier on his right and Porthos is equipping his broadsword on his left.  The front of the character is the red and blue "stance" token faces. See below: when you see the characters from the side, you can see the stance token and how they are equipped.  The "blue" side is the primary side where the weapons are equipped!
  If you want to switch hands, you have to use your "action" during your turn.  (On every turn, you have a move, actions, and attack which you can do in any order).  So, you might move to engage an enemy, switch hands, then attack!! 
Now, the enemies have a simple set of rules to follow and attack.  They aren't quite as complicated as, say, Gloomhaven, but the enemies are no slouch.  When they move to you, they TRY to stay out of your attack zone!  Full rules are well described in the rulebook.
The core of almost everything the players do is a dice role.  4-5 counts as 1 success, 6 counts as TWO successes, and 1-3 fail. The number of dice you roll depends on your character and other factors, but it's usually about 3 or 4.  There are many things that give the players more dice and re-rolls: Most importantly are the "stones" in the middle of the board which players can use/share when needed:
Even though the dice are pivotal to getting stuff done, (defending, attacking, etc), I never felt I was a slave to the randomness of the dice: there were just so many ways to mitigate them!
Impressions
I really like Gascony's Legacy.  There are some similarities to Gloomhaven (the set-up, the movement, the feel, the advancement), but Gascony's Legacy is a smaller game with smaller feel.  But here's the thing: I think I'd rather play Gascony's Legacy than Gloomhaven!  Because it's so thematic and fun!!  I actually giggled reading the rules when I realized there were rules in the game for:
Jumping on a crate!
Rolling a Barrel towards your enemies!
Throwing a Brazier on your enemies!
Hiding from attacks behind statues!
Gliding from a chandelier!
Dropping a chandelier on your enemies!
Helping your fellow Musketeers (the Support abilities)!
Changing Hands of your sword!  ("I'm not left handed either!")
Fighting 1 or 2-handed!
There are so many places in Gascony's Legacy where the theme shines through like a bright light!  It's fun, it's silly, but the rules are still very clear and very consistent.   Even though this is a dice game, there are so many ways to mitigating the dice roles! Your equipment helps, you can spend destiny tokens, you can get support from your fellow Mustketeers, you can take a "stone" dice!!  You can still be strategic in your actions, but have the elements of luck give the game "spice!!!"
I realize that part of my enjoyment of this game is the theme: the game captures the theme so well.  The campaign seems ok (I was annoyed that you have to get rid of all your coin between campaigns), but I'll be curious how far I get!
Conclusion
Gascony's Legacy is a good game! I like it a lot! I think the theme radiates from the box! It's fun jumping onto crates, rolling barrels over my enemies and strategizing with my compatriots of how to attack! The campaign itself isn't totally immersive, but the gameplay is! The rulebook is very good, if a little long, but it presents a game that I really enjoyed.
Is it better than Mousquetaires du Roy? Mousquetaires du Roy is a simpler, card based game that unveils a Three Musketeers story: it's a different game. I like them both, but Gascony's Legacy theme shines so brightly I think it elevates it above other Three Musketeers games! Having said that, if you want a simple cooperative Three Musketeers game, Mousquetaires du Roy is the right choice. If you want a fun, thematic, cooperative romp with slightly more complex rules, Gascony's Legacy is a fantastic choice!